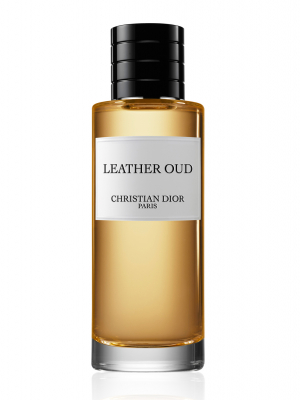 I suspect that I might be slightly late to the Leather Oud party, but what a celebration it is! As I sample and try more and more perfumes, it seems the more special a perfume has to be to impress me. Of late there are only a handful that have had this immediate 'wow' effect on me. A couple that spring to mind are Absolue Pour Le Soir by Francis Kurkdjian and to a lesser extent Secret Oud by Caron.
Now I can add a third to the list - Leather Oud. Like with all my favourites, it is often very difficult to pinpoint why it is so good. It's much easier to point out the negatives in perfume, I find. The notes from Now Smell This include leather notes and oud, Gaiac wood, cedar, sandalwood, cardamom and clove. I'm sure there is more to Leather Oud than that. For example there is an exquisitely rendered civet note - a skankiness that just hums beneath the surface, warm and unctuous. Leather Oud starts with a massive whiff of intensely sweet, almost burnt/caramelised sugar, which lasts but seconds. As this note fades, a smoldering, smoky oud and leather accord emerges, and this sets the tone for the rest of development. Although not listed, I think I detect a rose note that seems almost honeyed, and the leather becomes thick and buttery, for want of a more suitable description. As the fragrance develops, the leather becomes smokier and combined with what I think is civet, a brilliant 'dirty' smell arises. On my skin it feels like a wonderful combination of leather, oud, honey, light florals just here and there and that slightly dirty civet feel - all good.
There is something about Leather Oud that has a a similar vibe to Absolue Pour le Soir. They are by no means the same, but while Absolue has no oud or leather, its incense note creates a similar feel to the smokiness in Leather Oud, and both have that fabulously dirty undertone. The top and heart of Leather Oud are my favourite - I find that the base, while still very good, loses a bit of that warmth and sensuousness that thrills me so much earlier on. While the oud is lovely in this composition, this is by no means an over-the-top oud perfume. It is very well balanced, with an equally stunning leather accord.
I think what I love so much about Leather Oud is that it is such a complex and multi-faceted perfume. I've worn it quite a lot over the last three weeks (thanks to a very kind swop by Persolaise) and while it still feels mostly the same each time, there are subtle variations and the range of smells is so great. Leather Oud oozes sophistication and in my opinion, originality. While the notes themselves and in isolation are well known, its their combination that makes the sum of this perfume so much greater than its parts. Highly recommended. One thing though - why does this need to be sold in a 250ml bottle? No matter how good it is it, I do not need that much of it. I wish they could sell it in 30ml or 50ml...
Image credit - http://fimgs.net/images/perfume/