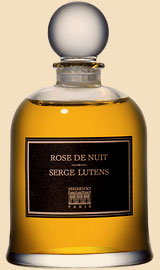 I think folks might be getting a little tired of my Serge Lutens week. I'm almost finished, I promise. Rose de Nuit is the last one.
I am a great fan of rose fragrances. I've tried a good few and Rose de Nuit is one that I've wanted to sample for a long time. One of my all-time favourite rose perfumes is Une Rose by Editions de Parfums Frederic Malle. It is dark, fleshy, complex, rich, sexy and just plain brilliant. It's perhaps no surprise that Rose de Nuit ticks a lot of boxes for me too. Like Une Rose it is so much more than simply a rose fragrance. I love the start, am not so sure about the middle and am sucked in by the dry down. Rose de Nuit, like Une Rose, shares a warmth, complexity and sophistication, hinting at roses, but in a very roundabout way. It starts quite fresh and rosy, then quickly morphs into something altogether darker, becoming woodier, suffused with a sweetish rose note. I love this phase.
In the heart it smells a bit more leathery, with a note slightly like varnish and lacquer. I find this phase ever so slightly synthetic. In the dry down Rose de Nuit becomes much earthier and fleshy, hinting at carnal pleasure. It is not particularly dry on my skin, which other writers have suggested and at this point it reminds me most of Une Rose, when it reveals a fleshy, animalic and almost wine-like note. It is a stunning perfume.
Like Santal de Mysore, which I wrote about a few days ago, it is one of those perfumes that elicited a 'wow' moment for me, which is a good sign. As with Santal de Mysore, I tried a wax sample of Rose de Nuit a couple of years ago and again, it bears very little resemblance to the actual perfume, except for the extreme dry down phase.
Although I love Rose de Nuit, I still think it comes a very close second to Une Rose, which is still my favourite rose fragrance of all!