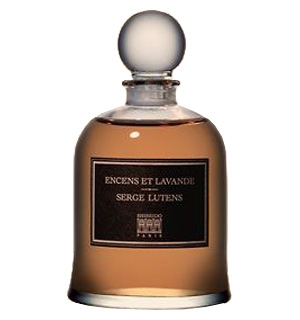 I'm on a bit of a Lutens bender, as you may have gathered, as I work my way through some of the non-export samples I got from The Perfumed Court recently.
Encens et Lavande was the one I was most doubtful I would like. It's a bit strange, because a few years ago I used to love the smell of lavender, and in fact I still do - the front path of our garden is lined with lavender that blooms magnificently in summer, scenting the air when it is hot and attracting lots of bees and bumblebees. I suppose for me the reason why lavender can be a bit off-putting in perfume (aside from the cliched old-granny associations) is that it can overpower and dominate, at the expense of other notes.
When I ordered this one, I was very interested in finding out how it compares to Gris Clair, another lavender perfume in Lutens' lineup and, funnily enough, the only full bottle in his line that I happen to own. Although I do like Gris Clair, the lavender note in it can become a bit overbearing and cloying at times, particularly in warmer weather. It is also a curious juxtaposition of warm and cold, sweet and herbal. Gris Clair is an austere scent, but in my opinion very well done. I can understand how it does have its detractors though.
The opening of Encens et Lavande left me feeling a bit dismayed. The lavender is strong, pungent and almost oily. It really does smell like you have just mangled the flowers and stems, letting the essential oil drip into a bottle, unadulterated. In a way, I do admire this, and is typical of Lutens ability to shock or jolt the senses, particularly in an opening. Just as I thought this was going to be a no-no for me, the incense seeps through into the composition, tempering the lavender and created a wonderful yin and yang of the resinous, pungent lavender, and a warmer, woodier, yet smoky incense. I haven't seen a lot of notes listed, but two additional ones mentioned are amber and clary sage. As the fragrance moves into its heart and dry down, the amber manages to sweeten the composition, but not too much, still allowing the more resinous incense and lavender to play against each other, while the sage adds a slight herbalness that manages to come across as aromatic rather than too green.
I read a review somewhere that said Gris Clair moves from light to dark, while Encens et Lavande does the opposite and ends up as a fairly warm and comforting scent. I would concur with the opinion. I wouldn't ever say that it ends up warm and fluffy, but it feels like one is enveloped in a warm, snug blanket, sat in front of a subsiding fire in winter, with a smell of slightly sweet herbs mingling with smoke from glowing embers , although I must stress that this is not really a smoky fragrance.
Although I could and would wear this in warmer weather, I can really see myself wearing this mainly in the cooler months and I can't wait to try this over Christmas. It's a bit weird, but actually I would say this one veers towards masculine, if only because lavender is so often used in men's fragrances (which makes me wonder why lavender is then so often thought of as an old lady smell?). Another winner from Lutens and I am so glad I've managed to sample this excellent perfume.