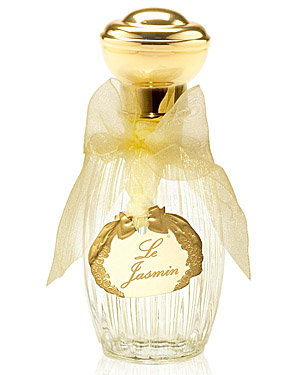 I mentioned in a post yesterday that I had tried two Solilflores by L'Occitane, Jasmine and Neroli, neither of which did much to impress me.
Today I was browsing and saw the 'equivalents' in the Annick Goutal line, so thought I would try them out. Neroli starts off with a gorgeous orange blast, slightly bitter and citrusy, then pretty much fades to nothing. I'm not complaining - these sort of fragrances are not usually long lasting affairs and I could easily picture myself wearing this with abandon in the summer. It's fresh, relatively unassuming, but very well done. Le Jasmin, pictured top left, is more complicated to my nose, without ever smelling very jasmine-y, if you know what I mean. In other words, the indoles do not manifest here, leaving a fragrance that is breezy and fresh, without being simple. The notes listed are sparse - just Sambac jasmine, magnolia and ginger - but I swear I smell a lot more. I did a quick search for reviews on Le Jasmin and was interested to read that almost everyone finds this green, light and simple. It's true that the jasmine does not shout or become cloying, as it is wont to do, but in addition to this I get a dose of smoky incense, which is an interesting pairing with jasmine. In fact, when I first sprayed this out the bottle I thought I had put on Encens Flamboyant, so similar did it smell, initially. I even checked the bottle to make sure, but it definitely said Le Jasmin.
I certainly preferred both Neroli and Le Jasmin to the L'Occitanes I tried. They are very well executed, although probably not totally my style. One thing I do know - Goutal has a lot of florals in their lineup, and they certainly know how to execute these very well.