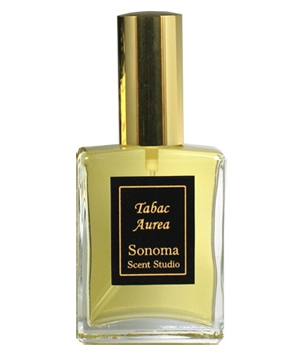 The final detailed review in my tobacco perfumes series is Tabac Aurea by the excellent Sonoma Scent Studio.
Of all the tobacco perfumes I've written about, Tabac Aurea is the most dry and in some ways the most austere, despite (or perhaps because of) a hard-hitting list of notes that include cedar, sandalwood, tobacco, leather, vetiver, patchouli, clove, labdanum, tonka bean, amber, vanilla and musk.
It is not sweet at all on my skin, even though I thought the tonka, amber and vanilla might turn it that way. Musk and labdanum are very evident, and I've noticed that labdanum is a very well-used note by Sonoma Scent Studio.
While tobacco is very definitely a feature note, it isn't a cozy, comforting tobacco. It is a bit of a shape shifter and reminds me a little of what I think it feels like to walk through a very old study, where once gentlemen smoked, read, drank, and time passed. A bit of dust, some wood, a hint of mustiness, a bit of leather chair.