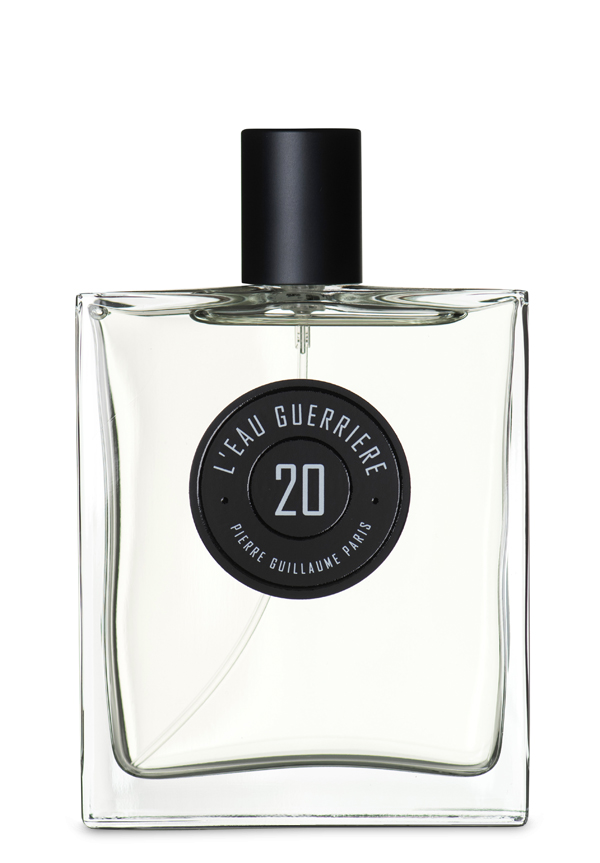 Parfumerie Generale is a line that seldom fails to move me in some way. I haven't fallen in love with every single one I've tried, but each has at least made some sort of impression on me. I can honestly say that none I've tried has been generic or smelled like anything else out there, which is saying a lot in this saturated market.
L'eau Guerriere means 'warrior water' apparently and the notes include cinchona bark, sky aldehydes, olibanum, aloe wood and musk. I'm not sure what cinchona bark is meant to smell like, although I read that quinine, a cure for malaria, is derived from the bark. Even more baffling to me is the term sky aldehydes. If any of you can shed light on that, please enlighten me! Aloe wood, if my understanding is correct, is another name for oud. Anyway, L'eau Guerriere has one of the most interesting and baffling openings I've smelled in a long time. It's hard to really describe, but to my nose there is an initial blast of metallic citrus and musk. There is nothing generic about this accord though. It is undercut by an intense nutty sweetness that is almost biscuity, suffused with dusty spices and what I perceive as an almost minty note. It reminds me ever so slightly of the intense sweet opening in other PG fragrances, most evident in Aomassai. It's wonderfully bizarre and original. It's also quite animalic, in a sly and subtle way. I think this might be the use of a heavy musk, which Pierre Guillaume likes to use in his perfumes. The opening is faintly disturbing. As the top fades, the fragrance becomes spicier and smoother, losing that animalic and musky edge. I can't quite identify an oud accord in this, but that isn't to say it's not here. The heart of L'eau Guerriere becomes quite woody, dry and incense-y. For a short while I can detect what I think is a hint of tobacco and leather, slightly sweetened, but this is fleeting. I think the dry woodiness might come from the cinchona bark, which together with the olibanum creates an incense accord that is not churchy in feel, but more like white smoke. It becomes more contemplative into the dry down, as the incense intensifies in feel. I'm not sure which phase I like the most in this perfume. I think I actually like each stage of progression, each of which is remarkably distinct and different to the next. Quite unusual in a way.
L'eau Guerriere has very good sillage and lasting power. I wouldn't call it a sillage monster, but it certainly has some presence and easily lasted a good ten hours on my skin. I don't find this overtly masculine, despite the incense and dry woods feel later on. I think it really is unisex. I can't really compare it to any other perfume I know, although for some reason I think this is what I wanted perfumes like 10 Corso Como and Let Me Play The Lion to smell like, but they never did. At the risk of coming across as overly enthusiastic, I can't recommend L'eau Guerriere highly enough. I love it and think it is a fantastic fragrance. A must try, if you can get your hands on it.
Image credit - Luckyscent.com